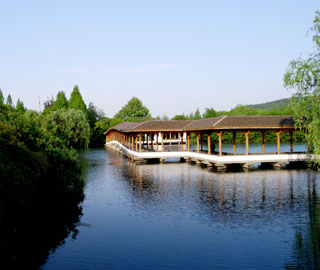 Arrive AK 140 Shantou airport at 15:10, 1 Sep 2018
To Jun Hua hotel, 12 persons and 12 big luggages
Local Tours
West Lake, the premiere attraction of Hangzhou, poets and artists going back over a thousand years went boating for pleasure and exploring the surrounding gardens, pagodas and pavilions. Lingyin Temple, the earliest important Zen Buddhist temple, has a long history of one thousand and seven hundred years with Buddhist statues with wood and stone lines of the halls. Xixi Wetlands is the first national wetland park with the only collection of urban wetland, farming wetland and cultural wetland in China. It's also famed for its silkworm cultivation, Dragon Boat racing and the birthplace of South Chinese Opera.Qiandao Lake , a man-made lake but like a natural paradise,is noted for its verdurous mountains, crystal clear water, exotic caves and strange stones with 81% covered in forests, 1,078 large islands and a few thousand smaller ones scattered.
HZPD-10: Hangzhou Tour Guide Service
Accompanied by our experienced tour guide, take your time and explore the city at your own pace!
Heavenly Hangzhou Day Tour
This day tour brings you the best of Hangzhou - the picturesque West Lake which regarded as the symbol of Hangzhou and the Lingyin Temple plus a tea plantation, where you can taste a nice cup of tea and learn the history and processing procedure of tea.
Hangzhou Picturesque Day Tour - West Lake, Ling Yin Temple and More
Ling Yin Buddhist Temple, Dragon Well Tea Plantation, Boat Cruise on West Lake, Golden Carp Pond Garden, Six Harmonies Pagoda
3 Days Graceful Hangzhou
Memorable tour in the natural beauty