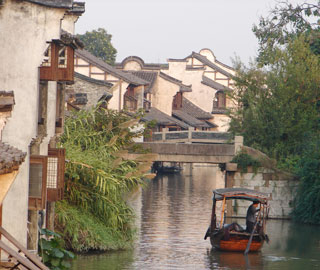 book a room
august 26 to September 16. I have been to your hotel in May of last year. I would like to have the same room as before.
Surrounding Tours
There also exist many historical & cultural towns and natural sceneries surrounding Hangzhou. Shaoxing, a 2500-year-old culture town, is always called "fenceless museum". You can scull WuPeng boat, roam in the antique streets, and listen to Shaoxing opera which the stage is on the water, taste yellow rice wine that is local product. In Wuzhen, you can join in the water market, wine distillery workshop and watch shadow play. Ancient Bed Museum, Wedding Museum and Chinese Footbinding Culture Museum are exhibiting the customs of ancients. Theme restaurants, local refreshments, exotic food and home cooking in guest house are waiting for visitors to discover.Mount Huangshan is not only the unique natural scenery but also the cultural landscape. The Four Spectacular Unique of Odd-shaped Pines, Queer Rocks, Sea of Clouds and Hot Springs constitute all the wonders of mountain scenery.
Wuzhen Water Village Day Tour
One of the most beautiful water village in China.
Shaoxing Ancient Town Day Tour
Boat Cruise, Shen Garden, Lanting Pavilion
3 Days Hangzhou and Ancient Water Village
Exploring the beautiful scenery along the fabulous West Lake and peaceful ancient water village- Wuzhen.