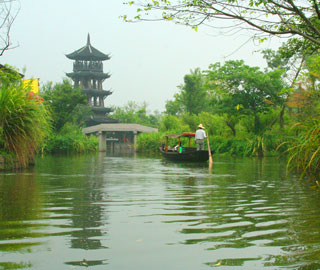 book a room
august 26 to September 16. I have been to your hotel in May of last year. I would like to have the same room as before.
Tours to Hangzhou
Hangzhou has a very convenient traffic for it only takes a few hours from Shanghai, Nanjing and Beijing by high-speed rail to these local amazing adventures. Flights and buses are handy, and boat travel to Suzhou or Wuxi is available too. There you can go boating on West Lake, explore the surrounding gardens, pagodas and pavilions that are top sights located in the vicinity. Amazing ten Views of the West Lake are waiting for you. Seeing the earliest important Zen Buddhist temple-Lingyin Temple and experiencing the Chinese Buddhist culture is also a wonderful tour. "Impression, West Lake", directed by Chinese famous filmmaker Zhang Yimou, is a large live performance with light, sound, dance and acrobatics that takes place on the waters of West Lake itself.
12 Days Tour of Classical Gardens & Ancient Water Town
Besides the highlight cities, the tour also covers Mt. Huangshan, famous for its four superb excellences "strange pines, absurd stones, sea of clouds, and hot springs", the exquisite royal gardens of Suzhou and enchanting West Lake of Hangzhou.
12 Days Imperial and Elegant China
You will enjoy different style cuisine such as Beijing roast duck, dumpling dinner in Xian and Shanghai style dimsum. Manificant shows and activities like kungfu show, Tang Dynasty show, Impression West Lake, Night cruise on Huangpu River, are also waiting for you to enjoy.
10 Days Forbidden City and China South Beauty
Immerse yourself in China's diverse cultures as we take you to some of the best and most diverse of China's cultural heritages. Feast on Peking Duck, climb the Great Wall and see how the Emperors lived at the Forbidden City. The Entombed Warriors amaze in Xian while the many beautiful West Lake in Hangzhou which live up to its name of "Paradise on earth". This tour also features on hot spring and spa, which making it an absolute relaxing trip.